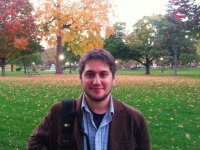 Contact Information
420 David Kinley Hall
1407 W Gregory Drive
Urbana, IL 61801
Biography
I am a PhD candidate in the Department of Political Science at the University of Illinois at Urbana-Champaign. My dissertation contributes to our understanding of how states overcome trust and commitment problems, focusing on reputation dynamics. My theoretical work relies on dynamic reputation models to examine the relationship between states' reputations and their incentives to maintain them. I test empirical implications of these theories in both IPE and conflict settings, such as foreign direct investment and deterrence. In addition to my dissertation work, I am also interested in civil wars and nonviolent movements.
Research Interests
International Relations
Political Economy
Education
MA Georgetown University
MA Kent State University
BA Middle East Technical University
External Links
Highlighted Publications
JOURNAL ARTICLES
Baser, Ekrem Taha. "Shift-of-axis in Turkish Foreign Policy: Turkish National Role Conceptions Before and During AKP Rule." Turkish Studies, 2015.