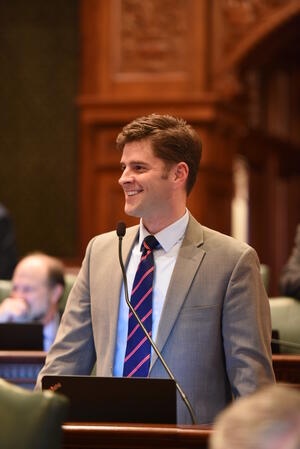 RYAN SPAIN (BA '05) graduated with a dual degree in Political Science and Speech Communication and Bronze Tablet Honors.
After graduating, Spain worked for a local non-profit economic development organization. A few years later, there was an opportunity to run for City Council in Peoria, Illinois. While he had no expectations for winning or losing with fourteen other candidates were running, he won and became the youngest at-large member in Peoria history, a seat he held until Fall of 2016. 
In 2015, the opportunity came up to run for a seat representing Peoria in the Illinois House of Representatives.  Councilman Spain ran for the office and became Representative Spain following his election in 2016.
As well as serving in the Illinois House, currently as Republican Conference Chairman, Spain is employed at OSF Healthcare System as the Vice President of Economic Development.  Spain and his wife Ashley have a six-year old daughter, Vivienne, and a two year old daughter, Eleanor.
Since serving in the Illinois House, Spain sponsored landmark legislation allowing volunteer work at Illinois State Parks and Trails as well as working closely on issues related to mental health, hospital and healthcare transformation.  On a more local level, Spain has always enjoyed spearheading initiatives to bring jobs and economic growth to our region.  He was proud to serve as the driving force in Peoria's Warehouse District, which has become a mixed-use district that is bringing both businesses and residents back to the core of the City.  He led the charge in Springfield during the Spring of 2019 to pass a Capital Infrastructure Bill to begin the work of rebuilding Illinois' roads and bridges.
Growing up, Spain was particularly interested in elections and even watched City Council meetings with his dad. He also wanted to learn how to help the government function more efficiently. When he came to Illinois, Spain was initially on a pre-law track but realized that a law degree was not necessary if he wanted to go into public administration or any government position. He then focused on completing congressional internships where he learned how to get involved in policy making. He was deeply interested in all facets of political science, and took almost all the classes available. His favorite class was with Professor Scott Althaus because he learned about politics in the media and micro-targeting within campaigns.
The best advice Spain has for undergraduate students is to create networks and build relationships within the department because you will meet unique people with differing views, just as he had. Spain's experiences at the University of Illinois allowed him to have a greater world view because of the diverse perspectives. He believes the leadership skills and experiences you gain in Political Science will allow you to work well with others in any future career, and has ultimately allowed Spain to find his passions within politics.
Representative Spain can be reached at repryanspain@gmail.com.