Bridge Over Troubled Water
By E. Todd Wilson, a communications associate in the UI Office of Public Affairs. Reprinted from Illinois Alumni, March/April 2003.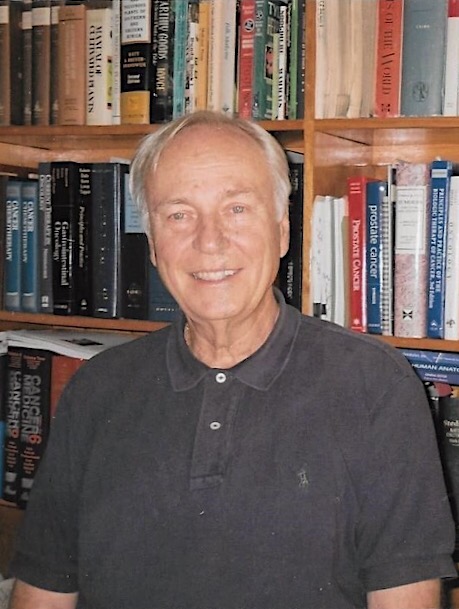 If Bob Byars had been granted tenure on the Urbana-Champaign faculty, he wouldn't have met his wife in China. He wouldn't have written Arizona Governor Raúl Castro's State of the State message in 1977. He wouldn't have lived in a Tibetan Buddhist community while working with troubled teens, and he wouldn't have started a food bank in one of Houston's poorest neighborhoods.
Byars loved working with students during his seven turbulent years as a UI assistant professor of political science. In return, he was beloved by students, who filled teacher evaluation sheets with comments like, "Excellent," "the finest teacher ... at the University" and "he'll lead you to good things."
Looking back at that time now, Byars feels that something went unfinished nearly 30 years ago in Urbana when he was forced out of the classroom, and he's hoping a new scholarship fund bearing his name will ease his mind.
Byars was labeled an activist faculty member during the Vietnam War/Civil Rights era because of his belief that knowledge should be used to make the world a better place and, as he says, "that it is immoral not to do this." He stated his positions on issues like war, peace, and personal freedoms but respected students' opinions and arguments as well.
When a new department head was brought in (to "clean up the department," according to some), Byars was dismissed. Officially, he was denied tenure because he published too little, although Byars maintains he was as prolific as any assistant professor in the department.
"I appealed, and I won all my appeals," Byars said from his home in Phoenix, "but they were all advisory, so they didn't make any difference."
Byars was still beloved by students, though, and they took up his cause. They made signs and protested at UI Board of Trustees meetings. Student and folksinger Kristin Lems (A.M. '75, '83 LAS) wrote a song, "The Ballad of Bob Byars," that she sang at a board meeting while playing guitar. In the end, the trustees refused to intervene.
In 1975, Byars left the campus and went west to a career driven by his social consciousness.
And that might have been the end of an unfortunate story, except that his former students never forgot him. Some, like Joel Bookman ('74 LAS, MUPP '81, UIC), the executive director of a community development organization in Chicago, say Byars' class set them on a course toward socially conscious careers.
"Bob awakened an awareness in his students that there is an opportunity for people to make a difference in society and work for justice," Bookman said.
Bookman has been in touch with classmates over the years, and they occasionally talk about Byars' influence. As Bookman put it, "He's on the board of advisers in my mind."
That's why Bookman and several other former students have been eager to pledge donations to the new "Students and Friends of Bob Byars Political Science Endowment Fund." After talking to several former students, colleagues, and friends, Byars set up the fund and wrote the scholarship fund agreement to reflect his values.
"It is targeted at needy, first-generation undergraduate majors in political science at the U of I," Byars said. "It also expresses my hope that, after completing their undergraduate studies, the scholarship recipients will use their acquired political skills to help make the world a more peaceful, just and environmentally safe place for everyone to enjoy."
Byars hopes to have an endowment of $25,000 within three years so that full scholarships can be funded.
"What is interesting in all this," writes a former faculty colleague, Dean McHenry, "is that Bob's reaction 30 years later is not that of a bitter person ... Rather, he must see the department (of political science) not as the scene of the crime, but as the scene of a great struggle by good people-his students.
"I don't hold onto anger, although I was really upset at the time," Byars said. "In a way, this scholarship fund is helping me close that loop."
Bob Byars has again found a way to help students prepare for great struggles.
If you would like to contribute to the Bob Byars Scholarship for First-Generation College Students, click here.