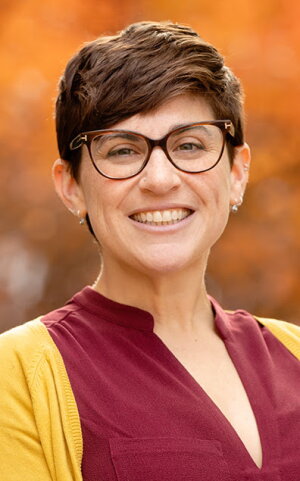 Contact Information
David Kinley Hall
1407 W Gregory Drive, Room 316
Urbana, IL 61801
Biography
Prof. Avital Livny holds a Ph.D. from the Department of Political Science at Stanford University and an M.Phil. in Modern Middle Eastern Studies and an M.Sc. in Comparative Politics Research from the University of Oxford. She earned her B.A. from Washington University in St. Louis in Political Science, History, and Near Eastern Studies, and worked as a Policy Assistant for Legal Momentum (formerly NOW Legal Defense and Education Fund) before beginning her graduate studies. 
in 2018, Prof. Livny received an award from the National Science Foundation to support her project, "Improving and Integrating Global Diversity Estimates Using Transparent Methods." She spent AY 2019-2020 as a Visiting Faculty Fellow at the Institute for the Study of Religion, Economics, and Society at Chapman University. Previously, she spent AY 2018-2019 as a Faculty Fellow at the Center for Advanced Study at the University of Illinois and AY 2016-2017 and 2017-2018 as a Linowes Faculty Fellow at the Cline Center for Advanced Social Research. Prior to her time at Illinois, she spent AY 2014-15 as a Junior Research Fellow at the Carlos III-Juan March Institute in Madrid.

Her first book, published with Cambridge University Press in 2020, is entitled Trust and the Islamic Advantage: Religious-Based Movements in Turkey and the Muslim World. Other work appears or is forthcoming in the Oxford Handbook of Politics in Muslim Societies, The Journal of Politics, and Public Opinion Quarterly.
Research Interests
Middle East
Comparative Politics
Identity Politics
Turkey
Research Description
Prof. Livny's research interests generally fall under the headings of comparative politics and political economics and include: the politics of religion and ethnicity, particularly the micro-foundations of identity-based mobilization and the measurement of identity as a variable; the foundations of political engagement in developing democracies; and patterns of interpersonal trust and tolerance, across space and time. Her region of interest is the Middle East and she has conducted extensive research in Turkey. She is a native speaker of Hebrew and English and has good knowledge of both Turkish and Modern Standard Arabic.
Education
Ph.D. in Political Science, Stanford University (2016)
M.Sc. in Comparative Political Research Methods, University of Oxford (2006)
M.Phil. in Modern Middle Eastern Studies, University of Oxford (2005)
B.A. in Political Science, Washington University in St. Louis (2002)
Additional Campus Affiliations
Associate Professor, Political Science
Associate Professor, European Union Center
Associate Professor, Center for South Asian and Middle Eastern Studies
Affiliate, Center for Social and Behavioral Science
Recent Publications
Chaudoin, S., Gaines, B., & Livny, A. (2021). Survey Design, Order Effects, and Causal Mediation Analysis. The Journal of Politics, 83(4), 1851-1856. https://doi.org/10.1086/715166
Livny, A. (2021). Can Religiosity be Sensed with Satellite Data? An Assessment of Luminosity during Ramadan in Turkey. Public Opinion Quarterly, 85(1), 371-398. https://doi.org/10.1093/poq/nfab013
Livny, A. (2020). How Extraordinary Was the Arab Spring? Examining 'Protest Potential' in the Muslim World. In M. Cammett, & P. Jones (Eds.), The Oxford Handbook of Politics in Muslim Societies Oxford University Press. https://doi.org/10.1093/oxfordhb/9780190931056.013.13
Livny, A. (2020). Trust and the Islamic Advantage: Religious-Based Movements in Turkey and the Muslim World. Cambridge University Press. https://doi.org/10.1017/9781108751667
Livny, A. (2017). Review: C. Tuğal's The Fall of the Turkish Model: How the Arab Uprisings Brought Down Islamic Liberalism. International Journal of Middle East Studies, 49(1), 206-208. https://doi.org/10.1017/S0020743816001409