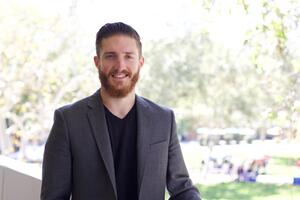 BRADY COLLINS (MA '11), an alumnus of the Masters in Civic Leadership program, never expected to pursue a career in academia. As an undergraduate student in Global Studies and Economics, he was always interested in international affairs. After spending a semester studying abroad, Dr. Collins was excited by the prospect of a graduate program that included a long-term internship and was thrilled to be accepted to this program.
Through his coursework, Dr. Collins secured an internship at the Association for International Arbitration (AIA), a think tank in Brussels that specialized in mediation and arbitration in international trade disputes. He was given a significant amount of responsibility in the organization and had the opportunity to participate in a two-week training on how to be a mediator, allowing him to strengthen the leadership skills at the core of the Civic Leadership program. After completing his internship and graduating from the Civic Leadership program, Dr. Collins was still interested in international affairs, leading to him getting a job working in Vienna for the International Atomic Energy Agency (IAEA) at the United Nations Headquarters.
Galvanized by the reelection of President Barack Obama in 2012, Dr. Collins wanted to return to the United States and get involved with local politics. At the same time, he began to miss academia. Working in Vienna exposed him to one of the best-planned cities in the world; he had developed an interest in urban planning and decided to apply to PhD programs in the field.  Ultimately, he was accepted to UCLA and chose to pursue further graduate education there.  Today, he is an Assistant Professor of Political Science at California State Polytechnic University Pomona, where his research focuses on urban problems including homelessness, transit access, and civic engagement in Los Angeles.
Reflecting on his time at the Illinois, Dr. Collins is thankful for the leadership training and cohort development required by the Civic Leadership graduate program.  He is still in close contact with his colleagues from the program, and it helped him build a critical network as he moved into his career. He also speaks fondly of Professor Dai, who taught a class that he took as an undergraduate student in global studies, and Professor Pahre, who taught a course on European politics and regionalism that was critical for his later work with international organizations in Europe.
For current students, Dr. Collins advises looking further than traditional career paths like law school and electoral politics for the myriad opportunities that align with the skills political science majors gain through their coursework. He also advises students to get involved with local politics or with organizations that are shaping the way we talk about political issues. On campus, he says that it is important to get involved in some of the many clubs and organizations on campus. By meeting other people who are passionate about what they are doing, you will start thinking about what you are passionate about and help jump-start your career after graduation.
Dr. Collins can be reached at bjcollins@cpp.edu.