Image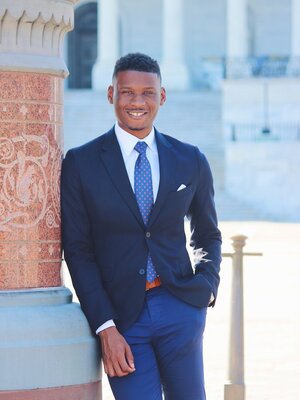 LARRY HARRIS, JR. ('15) has always had an interest in government and foreign affairs, and that led him to the Department of Political Science. During his time as a student here, he had a number of great experiences in classes and extra-curricular activities, but points to his study abroad in Vienna, Austria (in a program led by Professor Vasquez) as "life-changing."
In his senior year, Mr. Harris was accepted into the very prestigious Charles B. Rangel Fellowship program, designed to prepare recent college graduates for careers in the U.S. Foreign Service. He is currently enrolled in a Master of Arts in International Relations program at American University in Washington, DC, and has been offered a position as a diplomat with the U.S. Department of State.
Mr. Harris urges current students to build relationships with faculty and involve themselves with student organizations on campus. He argues that it is important to identify one's interests and reach out to various individuals or organizations: "You should never be afraid to send someone an email, or even call, to express interests. Persistence is key."
Mr. Harris can be reached at larryoharrisjr@gmail.com.