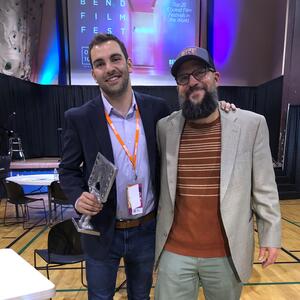 MARK GLASSGOW ('16) is a Co-Founder and Producer at Chicago Media Angels, a business dedicated to connecting investors with talented, independent filmmakers. They also assist in the production of the films and ultimately strive to provide a space for the filmmakers to express their authentic creative vision. Chicago Media Angels has produced 16 feature films and a slate of web series; many of the films they produce have premiered at top-tier film festivals and consistently receive top awards.
Glassgow majored in Political Science with the intention of going to law school after graduation. During his undergraduate experience, Glassgow decided to take advantage of the engineering facilities and resources provided on campus. His senior year he got involved with the Technology Entrepreneur Center program. While exploring the Chicago Entrepreneurial community, Mark met Ted Reilly, an angel investor at Irish Angels. Ted was interested in starting Chicago Media Angels and took Glassgow on as an intern to start the company with.
Glassgow never thought he would work in film, but he is very happy with his decision. He explained that the filmmaking process is one that requires a lot of funding and a dedicated team to produce. He gets to witness both commerce and the arts interact to create a unique, collaborative vision. Movies are also something that have the potential to touch on social and political issues. He explains that even in cases where a movie doesn't make a lot of money, it's still something you can be proud of and can speak to people.
Glassgow believes that political science provides a good mix of both qualitative and quantitative studies. He recommends for students in political science to get involved with the more quantitative aspects of political science such as statistical analysis and modeling. He also recommends that students be proactive in how they approach their careers after graduation; have a goal to work towards but, at the same time, expect things to change along the way as you grow and adapt. The uncertainty might be challenging but it's best to put yourself out there and try things out.
Mr. Glassgow can be reached at mark@chicagomediaangels.com.