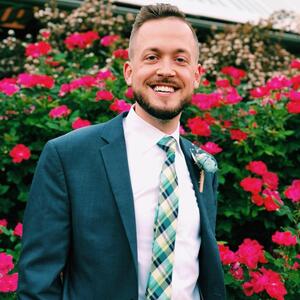 MICHAEL ALLENSWORTH (BA '14) attended the University of Illinois originally majoring in MCB on the Pre-Med track but soon realized it was not for him.
Allensworth always had a passion for politics, and after taking a few introduction classes in Political Science, it solidified his decision to change his major to Political Science. While at Illinois, Allensworth built an impressive resume, interning with the Vice Chancellor's Office for Student Affairs as well as becoming a Turner Fellow, Senior 100 Honorary Recipient, Homecoming Court Attendant, and a member of the Student Fee Advisory Committee. Allensworth continued his education at Michigan State University where he obtained a graduate degree in Higher Education Administration. Allensworth then stayed at Michigan State where he now works as the Assistant Director for Residence Education and Housing Services. In his current position he supervises the residence education programs and staff for the residence halls on the MSU campus.
Allensworth believes that attending Illinois "changed my life for the best". He believes that the Political Science program provided him with valuable experiences that he has used every day in his post-grad life. Allensworth learned more than just the topics explicitly covered in his political science courses, stating he got a lot out of "the skills you learn from the degree, not just the degree itself". He went on to say that a political science degree is versatile and allows people to think critically – both quantitatively and qualitatively, how to work in and with diverse populations, and how to articulate your thoughts in clear and concise ways.
As for advice for current students, Allensworth suggests you make the most of your time at the Illinois and in the department by getting out of your comfort zone and trying something you may not do in any other place, like studying abroad. Allensworth is a big advocate of using the Illinois network, stating "the world is huge and there is a place in it for everyone". Though his initial career path did not align with where he ended up, Allensworth is confident he found something that he loved by being open to the new experiences that came his way.          
Mr. Allensworth can be reached at allensworth10@gmail.com.