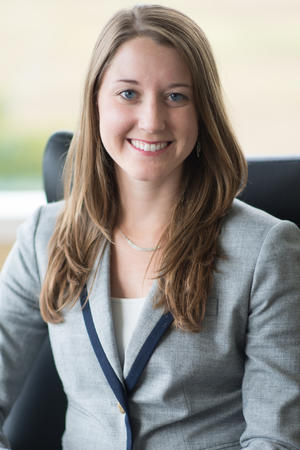 MICHELLE (EACK) MORA ('11) entered college through the general curriculum program (a forerunner to the Division of General Studies) with hopes of studying business and going to law school. After exploring the curriculum a bit, she followed her heart to political science and Latin American Studies. During her time in the department, she was a participant in the Political Science Honors Program, which culminates in a senior thesis. Michelle calls the thesis the hardest thing she had done in her life to that point, but was very glad she pursued it.
After graduation, Michelle worked for several years for Caterpillar Inc. as a technical recruiter in Latin America. She then returned to school to pursue an M.A. at the School of Advanced International Studies at Johns Hopkins University. As part of that program, she held a series of different jobs and internships, including stints as a labor markets researcher for Talent Beyond Borders (a non-profit that helps refugees to identify their job skills and match them with companies needing skilled workers), a foreign commercial service intern at the U.S. Department of Commerce, and as a research assistant at the William J. Perry Center for Hemispheric Defense Studies.
Michelle's advice for current students is to look at the class lists without regard to the specific major, and be aware of which topics students are drawn to organically. Says Michelle, "You will always be happier and more successful working in something that complements your interests and strengths. Even if you cannot immediately see the application to a specific career, keep moving towards your natural interest step-by-step and it will fall into place. This is the time to be bold!"
Ms Mora can be reached at michelle.eack@gmail.com.