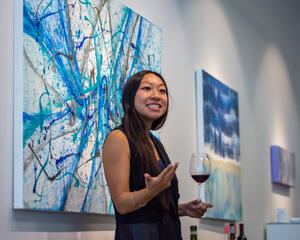 Growing up in Taiwan, where politics permeates every day life, MURPHY PERNG (BA '11) developed an interest in the subject. Her family openly shared their views on international affairs with her, and their passion for politics rubbed off on her. She decided to pursue a Political Science degree with a double major in Communication.
After graduation, Perng worked in the corporate field, gaining experience in marketing. In her last job, Perng was Senior Marketing and Communications Manager at a health care company. However, Perng was eager to start her own business; she wanted the flexibility to manage her own schedule in order to visit her family overseas and travel. Having a passion for wine, Perng started studying for the Wine Spirits & Education Trust exams, eventually earning her WSET 3 Advanced certification. She quit her corporate job of five years and was on her way to starting her very own wine business.
Perng is now the founder of Matter of Wine, a wine education business devoted to teaching the Los Angeles community the fundamentals of wine in a fun, hands-on manner. During MOW events, attendees develop their palates by tasting and analyzing wines with sight, smell and taste in mind. From culture-building events, to incentive programs, to birthday and holiday parties, Perng has catered to many different types of events. MOW has collaborated with prominent brands such as Equinox, Buzzfeed, and WeWork, to name a few. She cherishes every opportunity to meet new people and share with them her passion for wine. 
Perng credits Professors Michael Krassa and Scott Althaus with her positive undergraduate experience and appreciates the time they made for her at such a large university. Whether it be from picking apart Professor Krassa's brain on interesting current events or seeing the world from a different point of view during a lecture in Professor Althaus's class, Perng absorbed as much knowledge as she could from her professors. She was highly active in the Taiwanese American Students Club, in which she was the Social Chair, then VP internal. She was also a member of Alpha Xi Delta Sorority and Alpha Phi Omega, a service fraternity. 
Even while working in the wine industry, Perng finds value in her Political Science degree. This major has helped Perng learn how to advocate for herself, a crucial skill in starting her own business. Her advice to current Political Science undergraduates is to think through practically what you want to do in the future and take the appropriate steps during college to get there. This can be seen with Perng's double major in Communication, as she knew she had an interest in marketing and wanted to ensure she was employable in multiple industries. In addition, Perng says that, "while you're in college, you have so much knowledge around you. You want to do everything you can to absorb all the knowledge your professors and fellow students have." She recommends building relationships with professors and meeting with people you can learn from.
For students wanting to start their own business, Perng found her past 7 years of experience in the corporate world extremely useful. Because she joined her previous company in its developmental phase, she had the chance to see how a business was built from the ground up, and gained an understand of how all aspects of the business worked together. Her biggest piece of advice is to spend time building genuine relationships with people. "When you first start your business, your friends and your family are your biggest supporters," she says. Perng shared the news about Matter of Wine with her friends before she launched her wine workshops. Some worked in the corporate space and went so far as to recommend her to their own companies for team-buildings, holiday parties, and other events, and word about her business spread from there. Perng is looking forward to working with exciting new brands in 2020, and in the future, hopes to expand her business to all of California.
Ms. Perng can be reached at murphy@matterofwine.com.