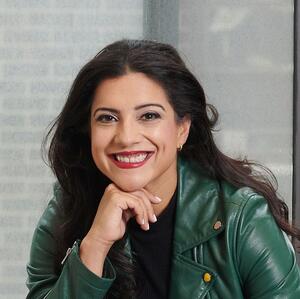 Quite a few graduates from the Political Science department at the University of Illinois might someday end up on the east coast, but far fewer will have had a journey similar to RESHMA SAUJANI (BA '97).
Saujani majored in both political science and communications and went on to receive her MPP from Harvard and her law degree from Yale. Saujani's passion for public service led her to run for the House of Representatives in 2010. During this race, she founded Girls Who Code, a non-profit that aims to close the gender gap in coding and technology education and careers. She noticed the absence of women and girls from robotics and computer science classrooms, and decided to work to rearrange the structure of society to be more welcoming to women and people of color.  
Saujani manages a budget of $28 million, thousands of employees, and 10,000 chapters worldwide to create an immersive and hands-on experience for girls to learn coding skills. Girls Who Code has summer programs with big names in technology (Microsoft, Facebook, Bank of America), ad campaigns, and films to change the culture around women in STEM. The organization also lobbies and advocates in the state and federal government to build more inclusive classrooms. This dual approach of changing both culture and politics is what has made Girls Who Code so successful, and how Saujani best intends to serve underrepresented populations.
Saujani credits part of her passion for gender equality and political action to her time at Illinois, where she says she learned how institutions were built and how to change them. She believes that the best problem-solving skills lie at the intersection of humanistic studies and technology and recommends that students in political science double major in a technical skill. By the end of their time at Illinois, Saujani hopes that students develop what she calls "imperfectionism", learning how to be "brave and not perfect."