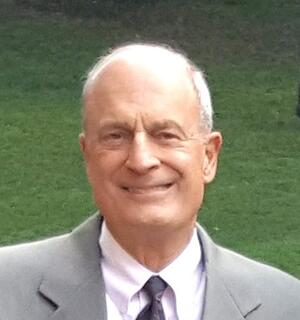 ROBERT DOUBEK ('66) grew up in an American family with Czech roots. They were bakers and confectioners for three generations, including his. In 1962, he enrolled at the University of Illinois, studying Political Science, German, and Russian. Soon after graduating from the University, Robert was commissioned in the Air Force. He served as an intelligence officer in Vietnam, focusing on the Ho Chi Minh Trail, among other projects.
After his service, Robert earned a law degree at Georgetown University in Washington, and in 1979 he co-founded the Vietnam Veterans Memorial Fund and became its Executive Director. He demonstrated both perseverance and leadership during the entire process of securing donations, directing the competition for the memorial's design, and overseeing its construction.  The famous design of the Vietnam Wall is a moving tribute to all who served in that war, with special recognition – their names engraved in stone – to those who lost their lives.
After completing the Memorial, Robert worked on real estate projects in the Washington D.C. area and in Central and Eastern Europe.
His roots prompted him in 1995 to found the American Friends of the Czech Republic (AFoCR) to advocate in support of the Czech Republic's bid to join NATO.  Robert states that the "effectiveness of AFoCR was a direct result of something I learned in my course on Soviet Foreign Policy."  He was selected to testify before the Senate Foreign Relations Committee on NATO enlargement, and the Czech Foreign Ministry awarded AFoCR with its Gratias Agit, which recognizes organizations that promote the Czech Republic abroad.
In 2003, Robert brought his diverse skills to the U.S. State Department, where he acquires sites of land around the world to build new U.S. embassies. He is "thankful for having learned the basics of systems of politics and government, since there are as many systems as there are countries."
Overall, Robert credits the Political Science department with providing him "valuable concepts and knowledge that enabled [him] to participate more fully and responsibly" as a citizen of his community and country, and as a representative of his country abroad.  In April, Robert was awarded the 2019 Alumnus of the Year for the Department of Political Science.  During his acceptance remarks, he recognized the challenges of creating effective political systems but considers the desire to "analyze political activity and behavior and discern universal principals and trends (to be) a noble pursuit."